Joe vs. Cobra Battlefield: (Infested Island) V19/ B2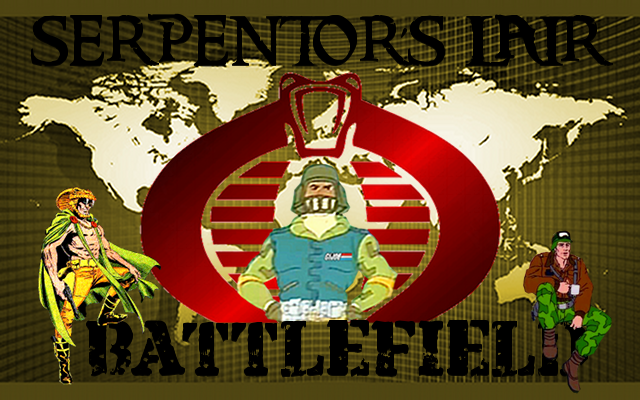 THE G.I.JOE BATTLEFIELD Game Rules.
HERE ARE THE BASICS
1.
Once you join a team and post here in the game thread we will get you your G.I.Joe or Cobra badge for your profile.
2.
Use your eligible DOG TAG to post one time per game day.
Each new player will begin the game with 500 flag points which may be used to purchase gear, any additional flag points must be earned via gameplay, or by donation from a teammate
We go by Eastern time zone and by the minute hand of the Serpentorslair time.
A game day starts at 12:00AM EST and ends at 11:59PM EST the next night.
There are several "team bonuses" scattered throughout the battlefield
THERE ARE A DIFFERENT VARIETY OF BONUSES YOU CAN OBTAIN WHEN YOU KO A CHARACTER, SOME WILL GIVE GIVE YOU A -15 DAMAGE ATTACK AND SOME A -25. THERE ARE ALSO SEVERAL FLAGG POINT BONUSES THAT ALSO MAY BE OBTAINED
THERE ARE A TOTAL OF 200 FLAGG POINTS THAT MAY BE EARNED VIA CHARACTER KO'S
. JUST CLICK ON THE ICON NEXT TO THE CHARACTER ON THE GAME BOARD TO REVEAL THE BONUS EARNED.
ALERT : IF YOU ACQUIRE A BONUS VIA A KO IN THE BATTLEFIELD YOU MUST USE THAT BONUS WITHIN THE SAME GAME DAY YOU ACQUIRE IT. IF YOU FORGET TO USE THE BONUS OR ARE UNAWARE YOU EARNED ONE, YOUR TEAM LEADER OR CO-LEADER WILL TAKE THE BONUS TURN FOR YOU AT THE END OF THE GAME DAY SO IT IS NOT WASTED.
3.
Player Options:
You can choose to Play as Joe or Cobra Character only, or you may use One Character and One Vehicle per person per round.
DOG TAG CHARACTER/ VEHICLE OPTIONS:
Each DOG TAG CHARACTER / VEHICLE requires a flag point purchase fee. You must purchase a new DOG TAG at the beginning of each Battle.
1a. You may choose to purchase just a Character Dog Tag, or you may choose to add a Vehicle Dog Tag.
2b. You may only control ONE Character and ONE Vehicle per person per round.
3c. If you purchase a Character Dog Tag OR a Character/Vehicle Dog Tag Combo, you may divide your hurt "TWO WAYS", and only "TWO WAYS'. This means you ADD THE TOTAL OF YOUR CHARACTER DOG TAG AND VEHICLE DOG TAG, then you can divide that total any "TWO WAYS" to damage TWO different Targets. In the same way if you purchase a Character only or Vehicle only, you can divide that total "TWO WAYS" as well.
4d.Below are the Joe Team And Cobra team DOG TAG options. Follow the links to the Joe and Cobra Team Armories to learn what is available.
How do i purchase a Character / Vehicle Dog Tag? You may earn
FLAG POINTS
to purchase them


These are the ways you can earn "FLAG POINTS"

1. You will earn 10 FLAG POINTS for every day that you post in the battlefield and make your game turn
2. You will earn 30 FlAG POINTS for making "3 NON-GAME posts each day. These three can be anywhere on the site outside of the "BATTLEFIELD FORUM GAME"
3. You will earn 50 FLAG POINTS for making "5 NON-GAME posts each day. These five can be anywhere on the site outside of the "BATTLEFIELD FORUM GAME"
4. TO EARN YOUR "NON-GAME POST" FLAG POINTS SIMPLY POST IN THIS LINK THAT YOU MADE THE POSTS AND A GAME STAFF MEMBER WILL RECORD YOUR POINTS FOR YOU
5. Each "NEW PLAYER" begins the game with 1000 flag points
6. ONLY THE FLAG POINTS EARNED IN THE FINAL BATTLE OF EACH GAME CARRY OVER TO THE NEXT "NEW GAME"! ..... CLICK HERE!
* on every page the characters (along with their HP up to that point) will be posted as an "BATTLE UPDATE" so that players may know each characters HP up to time of the update.
9.
Structure - EACH GAME IS A BEST 3 OUT OF 5 BATTLES
GAME B.A.T. the game B.A.T. will activate when one team gains a 20hp or higher lead over the other team, and will keep the two teams within 20hp of each other. The game B.A.T. activation will be based on the tally given at the 2am eastern hp update. The game B.A.T. will attack on the last 24hrs of each round directly after the 2am eastern hp update to bring the two teams within 20hp of each other for the final day. The last 24hrs is determined when the overall hp reaches the amount of damage a team can do in 24hrs time.
10.
Need Help, have any questions?
Be sure and send a message to any of the game staff members listed below!
Feel free to contact any of the people below.
CAPT. GRID-IRON - Game Forum Administrator
MAJOR WOLF - Game Administator
Ska_Lives - Head Game Moderator
The Chosen One- Game Moderator
CAPT. GRID-IRON - G.I.Joe Team Leader
Protoxero - G.I.Joe Team Co-Leader
Andrea - Cobra Team Leader